Risk Management Software
Scalable Software Solutions to Unify Risk Management
When teams work together, they maximize risk reduction.
To protect against the full spectrum of risk facing your company, you need to unify all risk management efforts inside and outside of the enterprise. ProcessUnity's suite of future-proof software solutions helps align your risk reduction efforts powering an effective and efficient process for: 
Identifying

Assessing

Monitoring

Remediating risk
The fully configurable, no-code ProcessUnity Platform and its seamless integration with corporate systems fuels risk unification across third-party risk management, cybersecurity and other risk management use cases — ultimately establishing a strong defense against the ever-changing threats to your business. 
Featured Risk Management Solutions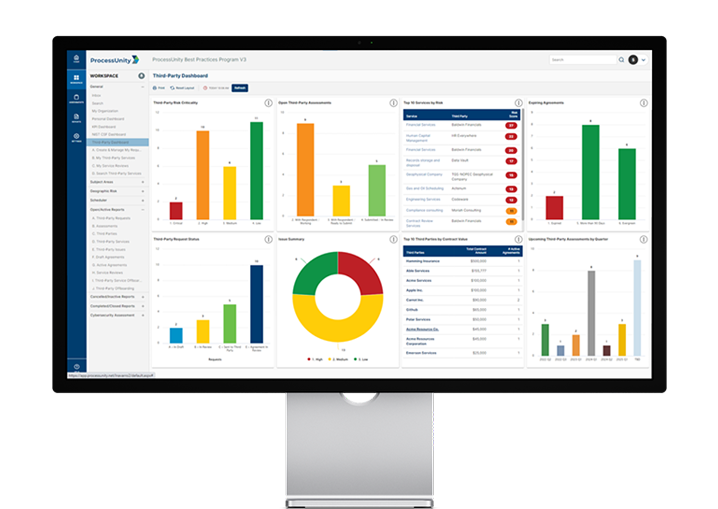 Powerful, Configurable Platform Provides Best-in-Class Risk Solutions
The ProcessUnity Platform delivers customer-driven, purpose-built solutions that work together to unify risk management processes throughout the enterprise. Active customer use cases include:
Advertising Compliance
AWA Compliance
Case Management
Broker-Dealer Compliance
Complaint Management
Consortium Marketplace
Contract Risk Management
Document Management
Exam and Certification Management
Incident Management
Internal Ticket Management
Internal Audit
IT Application Certifications
IT Controls Testing
IT Risk Management
Managed Service Platform
Operational Risk Management
Product Release Management
Product Utilization Management
Repo Compliance
Regulatory Change Management
Risk Control Self-Assessment (RCSA)
Service-Level Agreement (SLA) Program
Statutory Reporting
Sarbanes-Oxley (SOX) Compliance
Sourcing / RFx Processes
Trade Error Management
Volcker Rule Compliance
Begin your journey to enterprise-wide risk visibility. Contact us below to schedule a live ProcessUnity demonstration.
Schedule your personalized demo of our award-winning software and start your journey to a more mature, automated program.
Request a ProcessUnity Demo