Third-Party Risk Management Software
Third-Party Risk Management
ProcessUnity for Third-Party Risk Management (TPRM) protects companies and their brands by reducing risk from third parties, vendors and suppliers. TPRM expands the scope of risk management to encompass any external party that could pose a risk to an organization, including vendors, contractors, partners and suppliers.

With a single, configurable platform, ProcessUnity helps organizations manage the increasing complexity of supply chains and third-party relationships with tools to identify and assess the risks associated with each external party, monitor third-party performance and ensure external control effectiveness. Our software platform empowers you to proactively manage third-party risks and protect your organization from potential cyber threats and business disruptions.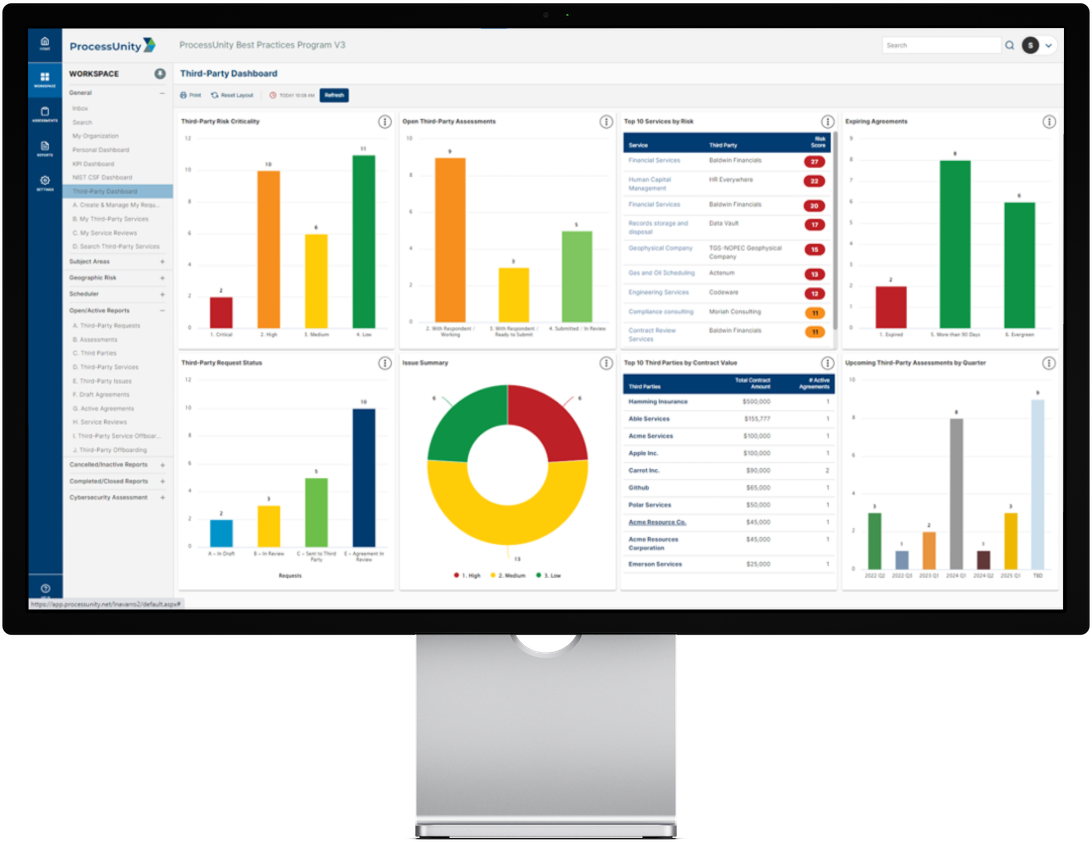 Automate the Third-Party Lifecycle
Pre-Contract
Post-Contract
Key Capabilities
ProcessUnity is a Leader in the 2022 Forrester Wave™ for Third-Party Risk Management Platforms
Third-Party Risk Management Report
ProcessUnity is a Leader in The Forrester Wave Third-Party Risk Management Platforms with the top score in the Current Offering category. Download a complimentary copy of the Wave to learn why.
Read the Full Report
Third-Party Risk Management Features & Benefits
Powerful Third-Party Risk Assessment Tools
The ProcessUnity intelligent questionnaires transform the third-party risk assessment process by eliminating the inefficiencies of surveys and spreadsheets. Inherent risk scores and vendor criticality tiers automatically determine assessment scope, while preferred responses score vendor submissions in real-time, highlighting areas that require attention. Third-party risk teams can take advantage of built-in content or easily import their own methodologies, including Standard Information Gathering questionnaires (SIG Lite and SIG Core) from Shared Assessments. Third and fourth parties complete assessment questionnaires through a secure online portal, with delegation capabilities to multiple contacts and the ability to attach supporting documentation. With streamlined assessments, organizations can more thoroughly vet more vendors, improving response quality and reducing vendor fatigue. 
Third-Party Onboarding
Automatically classify vendors based on the services provided and their level of data access during vendor onboarding.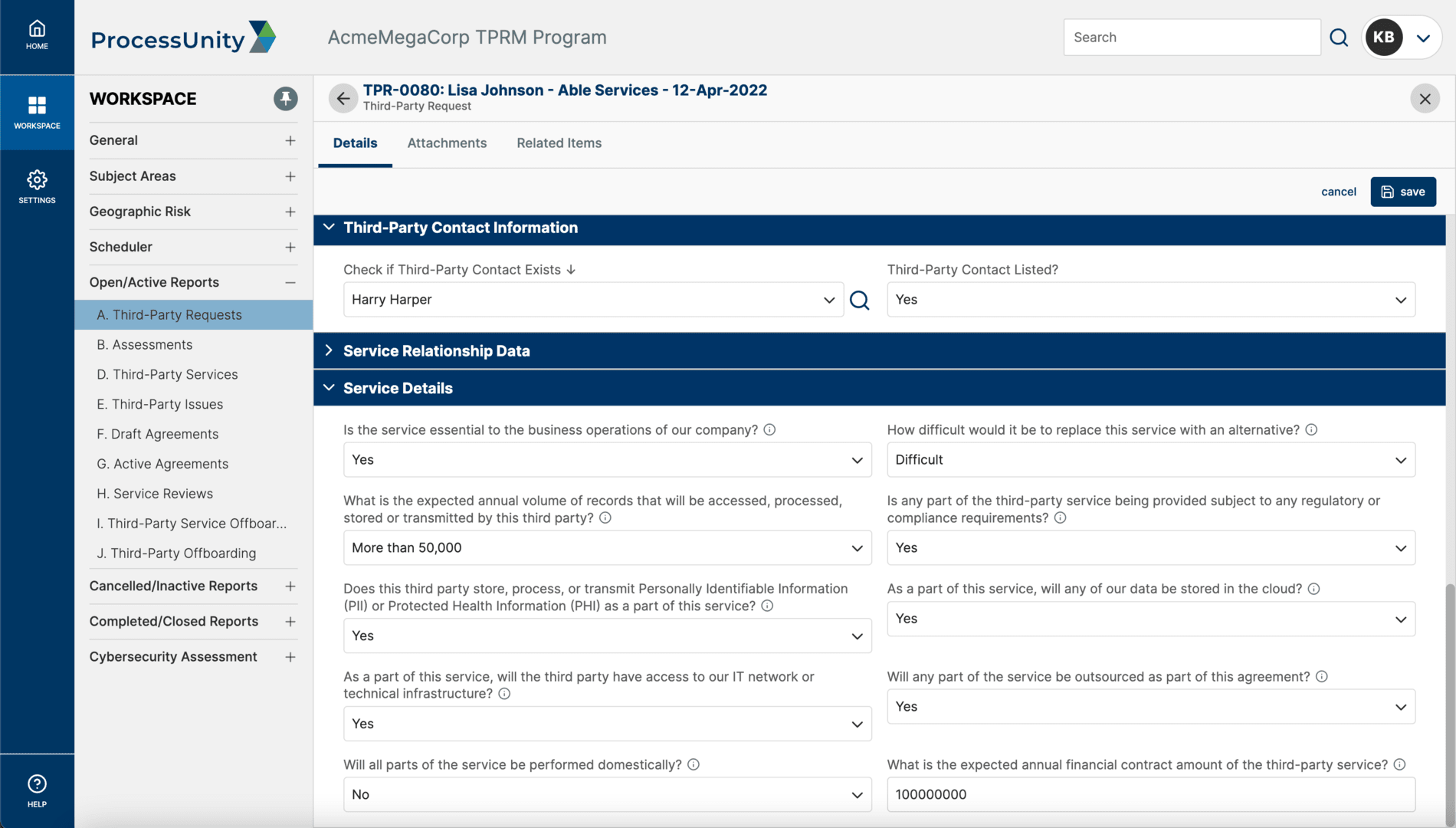 Third-Party Due Diligence & Ongoing Monitoring
ProcessUnity Third-Party Due Diligence Software enforces objectivity within your pre-contract vendor due diligence process.
SLAs & Third-Party Performance Management
Configure and conduct vendor performance reviews with ProcessUnity for Third-Party Risk Management.
Third-Party Sourcing & RFP Management
ProcessUnity Sourcing allows teams to effectively organize, track and document the evaluation of potential suppliers from initial request to supplier selection.
Third-Party Contract Risk Management
ProcessUnity for Third-Party Risk Management enables streamlined third-party contract management for organizations.
Issue Tracking
ProcessUnity for TPRM easily shows issues via the Third-Party Risk Management Issues Summary Reports.
On-Site Third-Party Control Assessments
Manage on-site vendor risk controls assessments with ProcessUnity for TPRM.
Third-Party Risk Management Reporting & Metrics
ProcessUnity provides real-time visibility into the state of third-party risk and demonstrates to executives and regulators the existence of a consistent, reliable and repeatable program. Interactive dashboards give management visibility into ongoing risk assessment progress, the status of remediation activity and vendor ratings. Drill-down capabilities allow risk managers to quickly find the details in areas of concern. 
Extensive custom reporting capabilities allow risk managers to create role-specific reports and dashboards through the point-and-click interface. With ProcessUnity, organizations gain program-level reporting that manual methods simply cannot provide. 
Pre-configured reports track critical vendor and service-risk information, including: 
Vendor Criticality

 

Vendor Assessment Status

 

Assessment Findings

 

Issues

 

Requests

 

Action Items

Contract Review Status

 

Risk by Geographic Location

 

Compliance Ratings

 
Integration with Cybersecurity Ratings, Financial Health Scores & External Expert Content
Third-party risk teams can incorporate industry-vetted content to augment initial vendor assessments and to signal potential issues in between periodic due diligence. With a variety of pre-built connectors to cybersecurity ratings, financial health metrics, watch lists, negative news feeds and more, ProcessUnity provides customers with additional insights into vendor preparedness, stability and performance. 
Learn more about the ProcessUnity pre-built connectors that can enhance and augment Third-Party Risk Management programs. 
Flexible Deployment Options + Unparalleled Configuration = Future-Proof Deployments
ProcessUnity for Third-Party Risk Management supports organizations of all sizes and program maturity. Our pre-built, out-of-the-box Best Practices Configuration offers smaller vendor risk teams a quick-to-deploy, complete program based on hundreds of successful customer deployments. Organizations with the most demanding and complex requirements can take advantage of the unparalleled configurability of the ProcessUnity Platform to implement a program that 100% matches their specifications. 
No matter how ProcessUnity is deployed, customers always have the flexibility to make changes to their implementation as their programs change and mature over time, future-proofing their Third-Party Risk Management software investment. 
Hundreds of organizations worldwide rely on ProcessUnity to make Third-Party Risk Management more effective and efficient. Schedule your personalized demo of our award-winning software and start your journey to a more mature, automated vendor risk management program today!
Request a Demo: Third-Party Risk Management