Cybersecurity Risk Management
Implement NIST CSF
Automate control mapping, control testing and evidence collection with ProcessUnity for Cybersecurity Risk Management to seamlessly align your cybersecurity program with NIST CSF.
Implement NIST CSF with ProcessUnity 
The US National Institute of Standard's Cybersecurity Framework (NIST CSF) is a voluntary cybersecurity guidance developed to help organizations better understand and manage their cyber risk. Aligning your cybersecurity risk management program with NIST CSF helps secure your networks and data against risk while improving your program efficiency. 
Though it can be challenging to align with all five framework core functions – Identify, Protect, Detect, Respond and Recover – partnering with the right technology and expertise will make it easier to achieve. 
ProcessUnity for Cybersecurity Risk Management assists your team in mapping your policies and procedures to NIST CSF, reporting on program status and improving controls. With Hands-Free Automation and real-time reporting, the platform helps baseline your program with NIST CSF, enabling your program to improve towards targets. 
Key Benefits:  
Map existing policies, procedures and controls to NIST domains

 

Baseline and improve control effectiveness

Centralize documentation for audit

 

Automate third-party risk assessments

 

Create tailored reports to prepare for audit

 
Get visibility into how your controls align with NIST CSF domains, track control maturity and drill down into coverage gaps.
Track control coverage across NIST CSF domains.
Measure control maturity against target regulatory proficiency and automatically calculate proficiency percentage with NIST CSF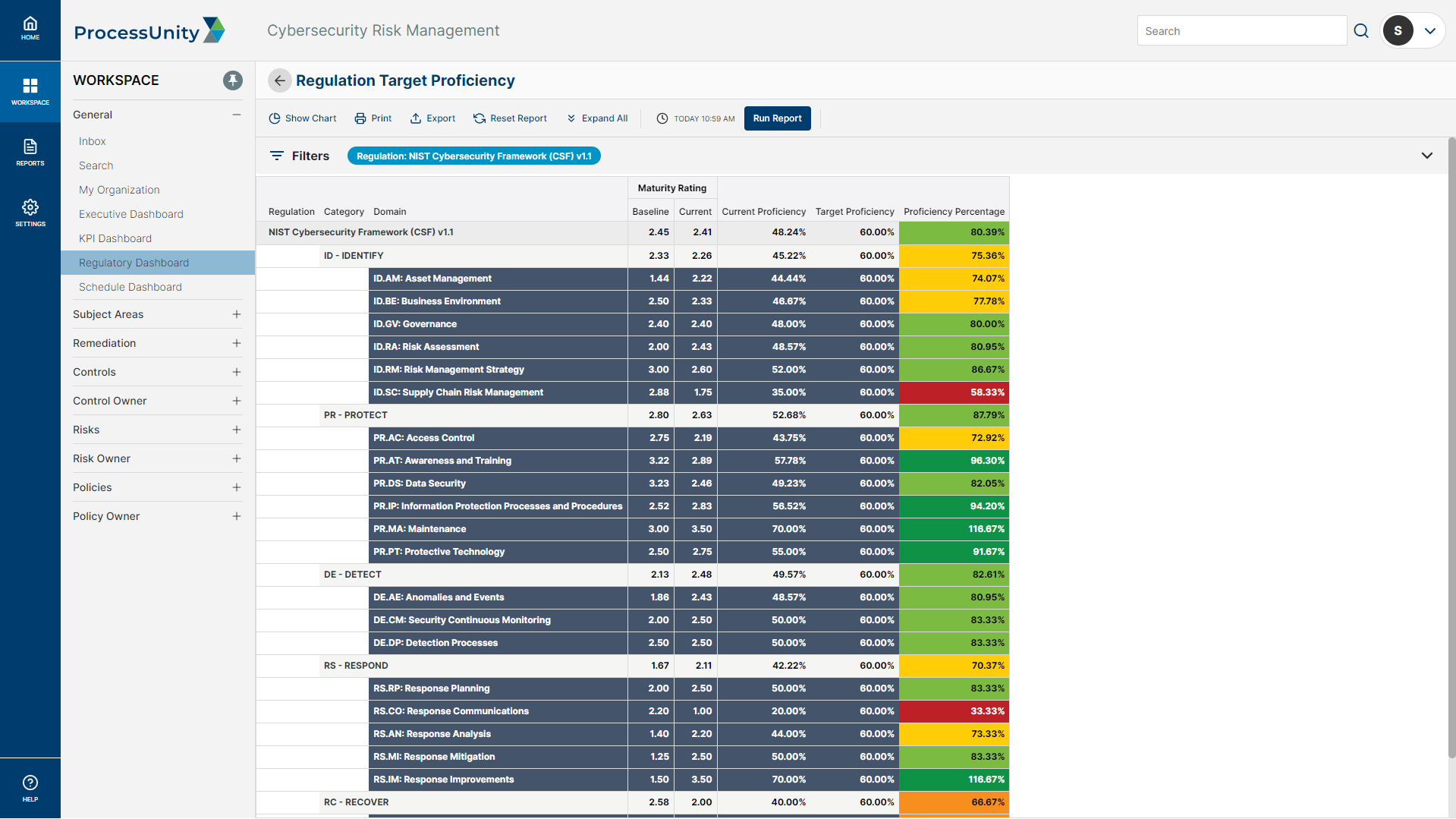 ProcessUnity can help your organization implement NIST CSF more efficiently with tools to: 
Map Policies and Procedures to NIST CSF 
NIST CSF requires 98 controls, but that doesn't mean you have to implement a new control library. ProcessUnity maps your existing policies and procedures to NIST SCF, eliminating any overlap in your control structure and avoiding duplicative work. The result is a robust control library that reveals gaps, identifying where to add or update controls to better align with the framework. 
Baseline and Assess Control Effectiveness 
NIST CSF is designed to baseline your control effectiveness and help you progress towards targets. The ProcessUnity Control Assessment Engine automates control reviews, ensuring you get on-time information to baseline and monitor control effectiveness. The platform triggers assessment distribution to assigned stakeholders based on your cadence, keeping control assessments on track throughout the year. 
Gather Evidence of Control Effectiveness 
When you need evidence for an audit, you don't want to rely on the timeliness of other stakeholders. ProcessUnity helps you collect control evidence with escalation reminders and notifications to the appropriate owners. The platform centralizes evidence collection in a single database, allowing you to organize and access evidence for audit. 
Automate Third-Party Risk Management 
Many controls in NIST CSF must be assessed internally and externally, meaning you need to continuously monitor third-party risk. ProcessUnity includes workflows for assessing third-party risk and factoring external control effectiveness into your overall control rating. Third parties can be monitored by criticality, allowing you to prioritize external issue remediation based on relevant risks to your business. 
Report on Controls and Risks in Real Time 
Auditors look for easy-to-read, comprehensive reports that detail your program's commitment to continuous improvement. ProcessUnity helps you generate an audit-ready report in seconds, reducing the time it takes to gather program data and analyze findings. For your team, real-time reporting provides complete visibility into your program, allowing you to set security and compliance baselines, then progress toward targets. 
Continuously Improve Cybersecurity Controls 
The work isn't necessarily complete once you've implemented NIST CSF. Maintaining alignment as your business grows means continuously improving your security posture. ProcessUnity provides real-time monitoring of cybersecurity controls, risks and compliance, enabling your team to identify and address issues quickly. Reporting tools allow you to benchmark your program and measure performance against targets, providing visibility into where to allocate remediation efforts. 
Implement NIST CSF with ProcessUnity 
ProcessUnity helps organizations of all sizes implement NIST CSF more efficiently with out-of-the-box control mappings, automated evidence collection, third-party risk management workflows and real-time reporting. 
Contact us to schedule a ProcessUnity NIST CSF demonstration.
Hundreds of organizations worldwide rely on ProcessUnity Cybersecurity Risk Management to implement a centralized system of record for managing cybersecurity activities across the organization. Contact us to start your journey today!
Request a Demo: Cybersecurity Risk Management